Lindsey Yoo, Lead Copywriter & Brand Strategist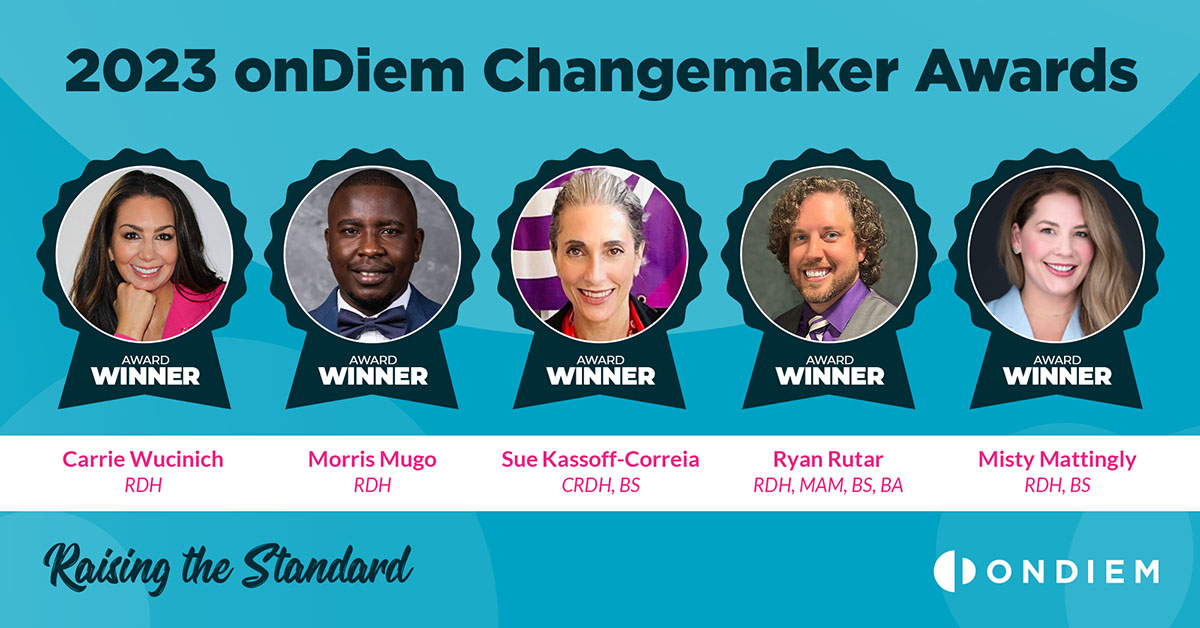 One person caring about another represents life's greatest value.
—Jim Rohn
American entrepreneur, author and motivational speaker.
On Friday, July 7th, Team onDiem introduced our Changemakers in Dentistry Award, a yearly honor that celebrates five exceptionally impactful dental professionals.
From advocates for children affected by cancer, to leaders providing critical care on a global level—all of our winners and nominees were recognized for their altruism, leadership, and community-building work in dentistry.
As our Founder and CEO Joe Fogg noted, there was truly no better place to introduce the Changemakers Award. We introduced our inaugural winners at the ADHA's Friday Reception for their 2023 Conference (for which we served as a title sponsor), held at TAO Chicago. We were surrounded by representations of compassion, abundance, and healing—from an impossibly tall portrait of Quan Yin, the Buddhist goddess of mercy; to the gilded pan-Asian symbols of luck that lined the walls; to the nearly 700 accomplished dental professionals who shared the dance floor with us.
We could talk about the $3000 cash prize each winner received to further enable their good work, or go into detail about the exclusive onDiem community each nominee and winner will join. We could delve into the nomination process—and how difficult it was to select from a pool of tens of thousands of dental workers, educators, and leaders, who all deserve to be recognized for their incredible contributions to dentistry and healthcare. But in keeping with our company's ethos (We're honored to simply hold space for our dental community, and enable their best work!), we'll focus instead on the accomplishments of our inaugural class of winners.
A huge and well-deserved congratulations to our 2023 onDiem Changemakers in Dentistry Award winners: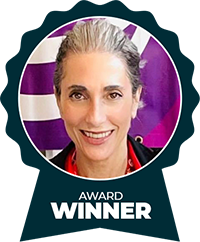 Sue Kassoff-Correia, CRDH, BS, Clinical Director for the Special Olympics and Special Smiles volunteer, received the Changemakers Award for her leadership and advocacy for adults with developmental and intellectual disabilities. She has served the ADHA on the local, state, and national levels—as an officer, council/committee member, and chair. She has regularly worked with adults with developmental and intellectual disabilities by conducting dental screenings; providing oral hygiene instruction, nutrition education, and preventive care; and triaging those who have no "dental home" to a dental provider, through grants and pro-bono services.
Sue serves as a professional educator for Waterpik, Inc. and as an adjunct clinical instructor at Broward College. As the Project Manager for Oral Health Florida, she works in tandem with in-school health clinics to provide oral health care to Miami-Dade County Public Schools students. She is the lead screener for the Ninth Grade Our Smiles Count Basic Screening and Surveillance Project, on behalf of the Florida Department of Health in collaboration with the Florida Dental Hygienists' Association. In 2014, Sue was appointed to the Florida Board of Dentistry Council on Dental Hygiene, a position she held for several years. She was selected as an attendee of the 2016 Unleashing Your Potential event in Chicago, and has been the proud recipient of awards including the Esther Wilkins' Future Leader Award in 2017.
---
Misty Mattingly, RDH, BS, the Senior Vice President and Chief Dental Hygiene Officer at Sage, won the Changemakers Award for her commitment to and strong advocacy efforts for improved patient care. Misty is an advocate for hygienists, in support of their integral role in every patient's health. She previously served as the President of the Georgia Dental Hygienist Association; delegate for the ADHA; COO of Northwest Oral and Maxillofacial Associates in Marietta, Georgia; and Regional Vice President at Coast Dental.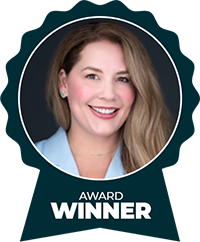 Misty is currently the first hygienist to serve as Vice President of the Board of Dentistry in Georgia. She has been the recipient of several awards for enhancing the patient experience and growing hygiene services and capacity across the country, including recognition as the 2023 Women in DSO - Clinical Leadership winner. She was a participant in the exclusive "Unleash Your Potential" program by the ADHA, a Proctor and Gamble scholar, and a pivotal advocacy and legislative player in increasing access to care in Georgia.
---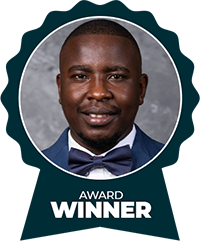 Morris Mugo, RDH, the Founder of Safari N Smiles, won the inaugural Changemakers Award for his work to empower diverse practitioners and for his organization and provision of critical dental care across Africa. He founded his non-profit organization to organize enjoyable, high-impact trips to Africa for dental and medical professionals—and to combine a love of travel with mission trips and CE classes.
Through Morris' leadership, Safari N Smiles has treated over 600 orphans for free and organized trips for over 200 dental professionals and their loved ones. He is also a full-time traveling hygienist temping with onDiem.
---
Ryan Rutar, RDH, MAM, BS, BA, won the inaugural Changemakers Award for his work to build a safe and inclusive dental industry for the LGBTQ+ community. He serves as the President and Co-founder of Pearly White Prevention, consults in dental offices to empower and improve the dentist-hygienist relationship, and is an international speaker.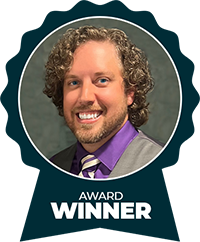 Ryan is the Chair of the IDEA Committee for the ADHA and on the Editorial Advisory Board for RDH Magazine. He created the "Rutar Meditation Toothbrush Technique" to combine his two passions of mental and oral health.
---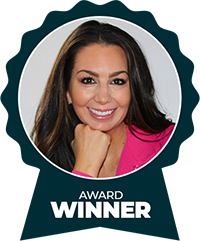 Carrie Wucinich, RDH, received the Changemakers Award in recognition of her work to support the well-being and oral health needs of children with cancer. As the Founder of the Kindness Conquers Foundation, she provides vital dental health education to affected children and their families.
Carrie has practiced dental hygiene since 2008—and is also the author of children's book Where the Sugar Bugs Live, designed to help educate children on the importance of a proper brushing routine and dental care. A portion of proceeds are given to families affected by childhood cancer.
---
Congratulations to our 2023 nominees as well—who have gone above and beyond to empower our collective dental community:
Jessica Atkinson, RDH, BSDH, MEd, FADHA
Shelley Brown, MEd, BSDH, RDH, FADHA
Jeannette Diaz, RDH, RDHAP, MS, MPH, FADHA
Amanda Hill, BSDH, RDH, CDIPC
Sheena Hinson, RDH
Marlyce James, MSEd, RDH, CDA
Beryl "Sue" Kassoff-Correia, CRDH, BS
Katrina Klein, RDH, CEAS, CPT
Melia Lewis, MEd, BSDH, RDH
Alicia Murria, RDH MS
Nicole Ortega, RDH, RDHAP, CEO
Cheryl Shafer, RDH, BS, COM
Michelle Strange, MSDH, RDH, CDIPC
Over the next several days, through all of our channels, we'll provide a deeper look into the work and accomplishments of our inaugural class of winners and nominees—most of whom have engaged in unpaid or pro bono work to increase access to care, improve the patient experience, and advocate for better livelihoods and working conditions for dental workers. (We'll also provide details on how to nominate a candidate for next year's honor!)
We've always been impressed and awed by the pivotal, industry-defining work of our collective dental community. Above all, we're humbled to do what we can to enable such work—and to be just a small part of it all.